Event Trends That Will Shake Up Meetings & Group Business in 2021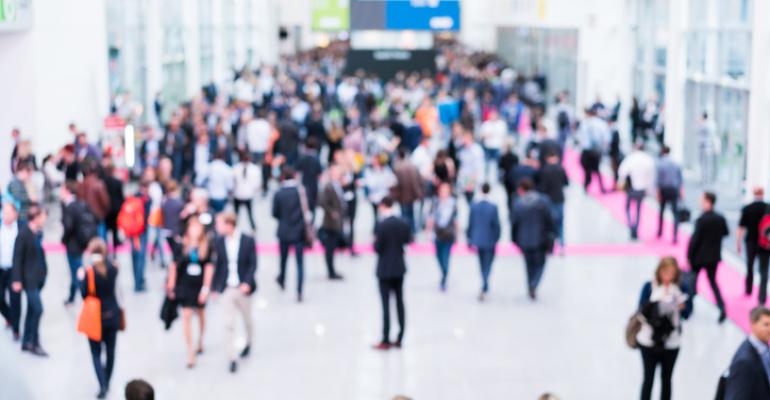 Building on months of experience and some realistic expectations on global health trends, it's not a matter of if, but how, the meetings and events industry will continue to experiment and change in 2021 and beyond. The tough part is: There's still a lot to learn.
To stand out amongst a sea of hybrid and virtual events, you have to have the right skills, equipment, and plans in order to be successful. For event planners and venues, that means making the most with what you have now without losing sight of the bigger picture.
With that being the case, we put together a list of 2021 event trends that you need to know, organized by category: Industry performance trends, attendee experience, meeting destination trends, and meeting design trends.
Industry performance trends:
1. Live events may resume after Q2.
Musicians have been touring in New Zealand and wedding venues in America have done what they can to honor bookings. However, these examples of successful in-person events are few and far between. Although there has been recent news about vaccine trial successes, the final testing and global distribution timeline has yet to be determined.
The good news is that most people are following these developments closely and are not surprised by how long it will take to get live events up and running again. "Customers are anticipating virtual meetings to continue into 2021 with some markets anticipating the introduction of hybrid events," reads a recent report from BCD M&E. 
Key takeaway for event planners: Continue to focus on your virtual event strategy. 
According to Helen McCabe, Managing Director of BCD, "Supporting and adding value to our customers in terms of virtual communication and engagement will be the key priority, common denominator and differentiator for 2021." 
Key takeaway for venues: Safe in-person experiences now may result in long-term relationships in the future. 
Upgrade facilities and daily operations to match health regulations since they'll likely remain the same for a while. Go touchless as much as possible at check-in, in restrooms, and at booths. Also, consider providing branded PPE for event attendees to keep people safe while marketing your business. 
2. Business and group demand will remain strong.
As Jack Corgel, Managing Director at CBRE Hotels' Americas Research, sees it, once travel restrictions open, people will feel comfortable traveling again, and there will be no major structural changes to how business and group demand will come back.
"I think the importance of being in the same room with somebody is not going to be lost," Corgel said during CBRE's August 2020 Lodging Insights session. "It's potentially true that business travel will fully recover, and maybe even be greater, as a result of now this alternative of home telecommunications."
Key takeaway for event planners: Strategize how you'll manage the travel boom. 
Demand management and policy will be hot topics for event expenditure as soon as travel restrcitions go away. Keep an ear out for what matters most to your key accounts. Some executives may be concerned about overspending to make up for lost time or traveling to get in some much-needed face time with their best clients. Offer assistance when it comes to negotiating between event objectives, HR, and finance once the travel spending floodgates open up again. 
Key takeaway for venues: Optimize your group booking strategy. 
As Hotel News Now says, be flexible and don't panic. Be proactive about cancellations and allow groups to use their deposits toward rescheduling for a later date. Create specific offers around hybrid events. Don't leave opportunities on the table.
Hint: luxury travel is one of the strongest areas of hospitality right now, so see what you can do to gain new business with this demographic. Finally, look at the first half of 2021 as an opportunity to hone in on improving existing relationships, fine-tuning sales strategy, and providing more training for onsite teams. 
Attendee experience:
3. Education will be a top priority.
In the age of DIY blogs, aspirational YouTube videos, online courses, eBooks, information-first marketing content, and TikTok tutorials, it's no surprise that audiences crave educational content at virtual events, too. As virtual versions of conferences and tradeshows continue into the new year, demand around certification courses and skill-building workshops is expected to continue.
Key takeaway for event planners: Define what "high-value content" means for your audience. 
Zero-in on what goals matter most for your audience right now or in the immediate future. Bring in speakers who have already achieved them or provide materials that give people all the tools they need to succeed. Digital content such as eBooks, livestreamed podcasts, and videos make for great list-building value adds. 
Key takeaway for venues: Small group and hands-on workshops are worth a shot. 
Eighty-three percent of Gen Zers have a newfound appreciation for in-person interactions, and it's likely that most other generations feel the same way. So as long as you keep your events safe and compliant, there are opportunities for unique and profitable in-person experiences. From pottery classes to VIP wine-tasting events, venues have many options when it comes to quenching their guests' thirst for knowledge. 
4. How virtual meetings are run matters more than ever.
The biggest challenge for virtual meetings and attendee experience is the host's lack of knowledge on how to run them. Forty percent of all virtual meetings experience technical disruption and audience fatigue because of this. In addition to internet speed, production quality including camera quality, sound, and lighting should also be considered. 
Key takeaway for event planners: Get in the mindset that hosting a virtual meeting is an art form.
Make sure you always test your equipment ahead of time and book a meeting host with a lot of charisma and energy. Teach hosts how to use the chosen technology. And be sure to do two or three engagement-boosting activities throughout the course of the meeting such as polls, surveys, and Q&As. 
Key takeaway for venues: Upgrade your Wi-Fi connections and equipment. 
Give your event planners and attendees all the best resources for their virtual conferences, meetings, and networking events to help them get and keepa strong internet connection.Upgrade to 5G if you haven't already and limit the number of onsite internet users during key event hours. And consider adding affordable and professional film equipment such as portable lightboxes and smart phone compatible microphones to your venue package.